Beatty Family Genealogy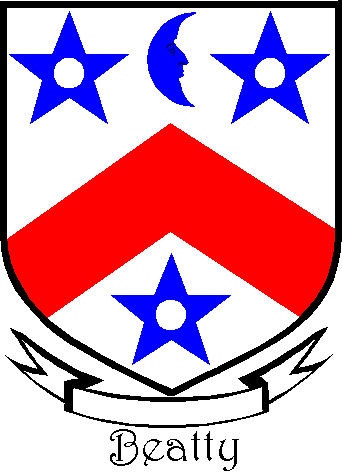 Here are some pictures of some of my Beatty Line.
Lee Lorenz Guerra, Dorothea Irene Beatty Posey, Catherine Hamilton Hartung, Hannah "Eliza" Wager Hamilton
Anna, Catherine Hamilton Hartung, Paul, Verna, Lonnie, Dorothy Beatty after Grandpa Hartung's funeral date on photo Sep 59
Dorothea Irene Beatty - Age 16
Links
Beattie Family Genealogy Forum
Fort Sam Houston National Cemetery
San Antonio, Bexar County, Texas
Allen Memorial Baptist Church - Grover, NC Beatty listings
List of Soldiers and Orphans who have entered the Soldiers Orphans Home, at Davenport Iowa up to the 1st of Jany 1867 - Beatty listings
Index to Wills Diocese of Raphoe 1684 - 1858 (Ireland)
Duncan Families Genealogy Page - Beatty Listings
CLARK COUNTY WW1 DRAFT REGISTRATIONS, 1917 & 1918; to help in your research in clark county ohio
Sumner County, Tennessee Bible Records Project
1850 Washington, D.C. Mortality Schedule
Irish Passenger Lists - see "Mary"
Irish Passenger Lists - see "Cornelia"
NARA -

U.S. Military Personnel Who Died (Including Missing and Captured Declared Dead) as a result of the Vietnam conflict, 1957-1995 Listed Alphabetically by Name as of November 1997

- Beatty listings from the State of Pennsylvania
My Branch in the Beatty Family - by David Beatty
Tipton County Hoosier Homestead Awards
City of Chester April 27 1891 from Liverpool
Wells Families of Wressle, Yorkshire, England and Ontario, Canada
Irish Marriages - BEING AN INDEX TO THE MARRIAGES IN
WALKER'S HIBERNIAN MAGAZINE 1771 to 1812
By Henry Farrar; London, England; 1890 - Beatty & Batty listings
Francis And Related Families - Beatty Family
Ghormley Family History - Beatty listings
Buncombe County Marriage Records - Beatty listings
Comprehensive Surname Index to the Records of the Society of Friends in Indiana, Part Five - Beatty listings
Beatty Cemetery Records of Edgar County, Illinois
1900 Marriage records Milton-Ulladulla (Australia)
The Civil War Medals of West Virginia
Oak Grove Cemetery Cass Co. Illinois
Lutheran Cemetery Cass Co. Illinois
St Alexius Catholic Cemetery Cass County, Illinois
BEARDSTOWN CITY CEMETERY NEW ADDITION Cass County, Illinois
Raphoe Marriage License Bonds County Donegal, Ireland
Miscellaneous Documents Erkinus Beatty letter (by or to?) with graphic of document.
Descendants of James Partee - has Beatty listings
INDEX to the GEORGE ROGERS CLARK PAPERS The Illinois Regiment - Beatty listing
TYLER COUNTY WEST VIRGINIA CEMETERIES MOUNT ZION CEMETERY - Beatty listings
Marriages from the Garrigill Registers 1730-1837 (UK)